Use
The Hamac Baby Swim Nappy is a leakproof, trendy and totally innovative swimsuit that replaces disposable swim nappies.
Made for children between the ages of 0 and 2.5, the Hamac swim nappy is perfectly suited for swimming. Children can go in the water or play outside and avoid having accidents at the pool and the beach.
The Hamac reusable swim nappy is 100% efficient and comfy; it is easy to use and quick-drying. The leakproof system is patented and relies on the same technical principles as the Hamac cloth nappy system.
If they wish, the parents can put a special reusable pad made for swimming under the pouch lining of the baby swim nappy (1 absorbent pad sold with the swim nappy).
It ensures that the child is comfortable, and the pad can be used in the water as well as outside the water. Note: in between swims, so that the child stays dry, you'll need to change the absorbent pad.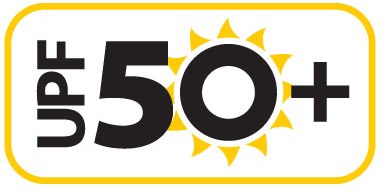 This baby swim nappy provides protection against the sun's UVA and UVB rays.

It is made of a high quality fabric that resists chlorine and salt.
Look at the swim nappy users guide.
Made in France.
Size Guide
3 sizes : 3-6 months / 6-12 months / 12-24 months.
If you hesitate between 2 sizes, take the bigger one.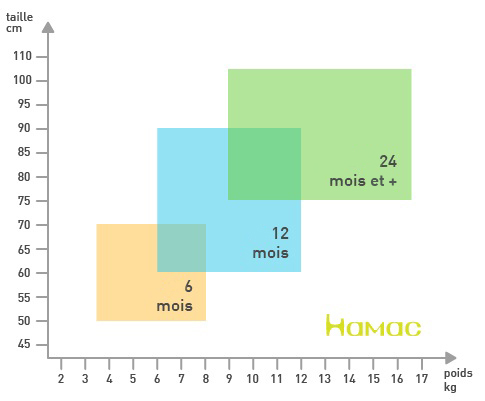 Composition
- The baby swim nappy is made out of Meryl™ microfiber. It helps keep moisture away from the body, speeds up drying and keeps baby's skin from getting too cold.
- The Hamac® pouch is made out of breathable and waterproof polyurethane.
- The inner netting is made out of 94% polyamide and of 6% elastane, and it keeps the absorbent pad in position (100% polyester).
- The reusable absorbent pad is made of polyester, with one soft layer made of polyamide.
Made in France.
Cleaning instructions
Swim Nappy
Machine washable at 40°C, the tumble dryer should not be used. It is important to fold the velcro tabs back on themselves before washing so that they do not damage the rest of the laundry. The baby swim nappy should not be ironed.
To prevent leaking and other damage to the Hamac pouch, refrain from using washing products containing alcohol, solvents, whiteners or abrasives.
Absorbent pad
Machine washable at 60°C, the tumble dryer can be used.
Product Reviews
, based on
You have tried this product? Tell us if you appreciated it!
parfait pour mon bébé nageur, elle est trop mimi dedans
---
Mon fils a 18 mois et utilise la couche piscine depuis ces 5 mois entre la piscine chez mamie, le bébé nageur toutes les semaines. Je n'ai pas encore essayé à la plage, mais à la piscine c'est le top. La taille 12 mois durée très logntemps, je viens d'investir dans la 24m mois et +
---
On a la classe ou on ne l'a pas...avec cette couche, c'est sûr, on l'a!!!
---
Je suis ravi du modèle, mon petit garçon est adorable avec la couleur et le motif sont super
---
Très joli , attention taille grand ! Il était tout beau mon ptit bonhomme à son premier cours de bébé nageur
---