Use
You can match your UV swim shirt and your Hamac swim nappy for a 100% safe swim with your baby and an adorable style.
At the beach and at the pool, you baby will be the happiest in his Hamac Set:
- A Swim Nappy which is a leakproof, trendy and totally innovative with its reusable pad made for swimming under the pouch lining of the baby swim nappy
- A UV swim shirt which protects your baby's skin against UV rays, both in and out of the water
Made for children between the ages of 0 and 2.5, the swim nappy and the UV swim shirt are made in France and made out of Meryl™ microfiber, It helps keep moisture away from the body, speeds up drying and keeps baby's skin from getting too cold.
It is made of a high quality fabric that resists chlorine and salt.
Very high protection against the sun's UVA and UVB rays.
Sizes
3 sizes : 3-6 months / 6-12 months / 12-24 months.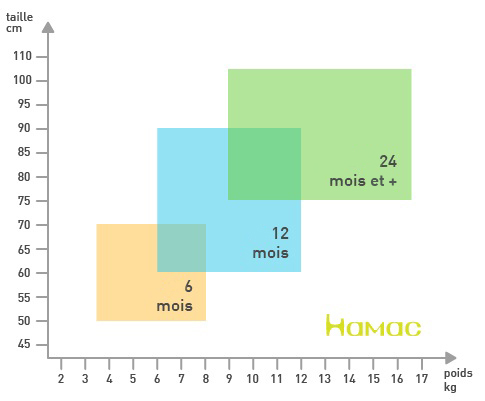 Composition
- The baby swim nappy and the UV swim shirt are made out of Meryl™ microfiber.
- The Hamac® pouch is made out of breathable and waterproof polyurethane.
- The inner netting is made out of 94% polyamide and of 6% elastane, and it keeps the absorbent pad in position (100% polyester).
- The reusable absorbent pad is made of polyester, with one soft layer made of polyamide.
Care
Rinse with fresh water after use.
Machine washable at 40°C (100°F).
Should not be tumble-dried or ironed.
Do not leave to dry in the sun.
To prevent leaking and other damage to the Hamac pouch, refrain from using washing products containing alcohol, solvents, whiteners or abrasives.
Product Reviews
, based on
You have tried this product? Tell us if you appreciated it!
Très jolie et facile à mettre. Tissue agréable. J'ai pris une tailla de 24 mois pour mon fils de 13 mois et sa va très bien. Il porte déjà et il pourra le porter toute la saisonne de l'été.
---
Très jolie ensemble, tissu fin et agréable.J'ai commandé une taille de 24 moins pour mon fils de 13 mois et ça va très bien.
---
Trop mignon ! On a pris la même taille que la couche mais c'était une taille un peu trop grande pour lui pour l'instant mais quand il pourra bien le mettre, ce sera super !
---
Adorable...On nous a offert l'ensemble marin mousse pour notre fille, c'était vraiment mignon sur la plage cet été et anti-UV. On est contents de l'avoir eu en grande taille, même si notre fille n'avait que 6 mois, ça allait quand même et surtout on aura le plaisir de le remettre l'été prochain.
---
Nous avions acheté le modèle capitaine (couche avec des petits bateaux) : super contents de la qualité du produit, mais taille petit ! Nous avions le plus petit modèle (6 mois) et bébé à eu beaucoup de mal à rentrer dedans..
---