Shirt and Swimsuit Set by Mr Wonderful - Rock Ananas
categorized in : The swim nappy and the UV swim shirt
A beautiful Shirt and Swimsuit set for the beach and the pool.Certified UPF50+. Limited edition by Mr Wonderful.
Hamac by Mr Wonderful
We designed a special edition with the Spanish brand Mr Wonderful, famous for its humorous messages and its funny little mascots, to offer you this capsule collection composed of 2 exclusive models : Rock'Ananas and Pink Flamingo. These limited editions are available in Hamac classic nappies, swim nappies and UV shirts.
Use
You can match your UV swim shirt and your Hamac swim nappy for a 100% safe swim with your baby and an adorable style.
At the beach and at the pool, you baby will be the happiest in his Hamac Set:
- A Swim Nappy which is a leakproof, trendy and totally innovative with its reusable pad made for swimming under the pouch lining of the baby swim nappy
- A UV swim shirt which protects your baby's skin against UV rays, both in and out of the water
Made for children between the ages of 0 and 2.5, the swim nappy and the UV swim shirt are made in France and made out of Meryl™ microfiber, It helps keep moisture away from the body, speeds up drying and keeps baby's skin from getting too cold.
It is made of a high quality fabric that resists chlorine and salt.
Very high protection against the sun's UVA and UVB rays.
Sizes
3 sizes : 3-6 months / 6-12 months / 12-24 months.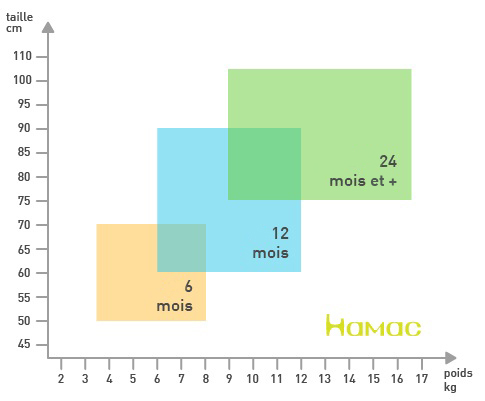 Composition
- The baby swim nappy and the UV swim shirt are made out of Meryl™ microfiber.
- The Hamac® pouch is made out of breathable and waterproof polyurethane.
- The inner netting is made out of 94% polyamide and of 6% elastane, and it keeps the absorbent pad in position (100% polyester).
- The reusable absorbent pad is made of polyester, with one soft layer made of polyamide.
Care
Rinse with fresh water after use.
Machine washable at 40°C (100°F).
Should not be tumble-dried or ironed.
Do not leave to dry in the sun.
To prevent leaking and other damage to the Hamac pouch, refrain from using washing products containing alcohol, solvents, whiteners or abrasives.
Product Reviews
, based on
You have tried this product? Tell us if you appreciated it!
Très joli ensemble mais un peu trop enfantin dans les motifs!
---
Magnifique ensemble qui fait des envieux à la piscine! Les copines l'ont adopter pour leur petits du coup
---
Superbe ensemble! Très belle collaboration avec Mr Wonderful. L'imprimé est magnifique. La qualité du tissu est là, comme toute la gamme Hamac, cela sèche très vite. Ensemble parfait pour les bébés nageurs. Il a fait des envieux ;) Couche de bain bien plus agréable que les jetables et tellement plus mignonne!
---
Qualité toujours au rendez-vous. Produit conforme à la description. Modèle très chouette!!
---
La qualité est toujours au rendez-vous. Produit conforme à la description.
---