26 Septembre 2014 -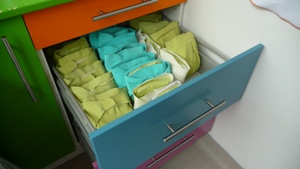 Hamac washable nappies are already worn by 350 children in day nurseries, all the way to Reunion Island off of Africa!
These day nurseries have common goals: reducing waste, and the well-being of our babies.
For three years, thanks to the nursery personnel involved and parents who care about the environment, Hamac cloth nappies have found their place in several day nurseries in metropolitan France and also French overseas territories.
For day nurseries, Hamac has developed a special 'Collective' line that follows government codes for hygiene and washing/drying nappies in public institutions. To make things easier, each size has its own colour!
In a 25-child nursery, using Hamac cloth nappies very significantly reduces its environmental impact. Here are the results (over the course of just one year!):
- 5 tonnes less waste, or 125 m3 less waste
- 17,000 disposable nappies that did not need to be purchased/stocked/thrown away
- 93% less CO2 released
Hamac provides an annual personalised certificate to participating nurseries that attests to the results from using Hamac nappies compared to disposable nappies.
Bravo again to all our partner nurseries!