The UV swim Shirt is Anna's favourite
08 Janvier 2015 -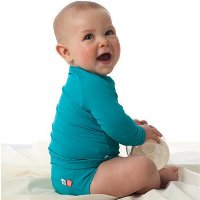 Anna lives in Panama, where pool and beach take part of the daily life.
She found with Hamac the protection and the style that she needed for her daughter.
"Living in a tropical climate here in Panama, pool & beach life are constantly an option. A welcomed option. But you are extra worried about the sun and skin of little ones. You don't only need a protection once in the pool but also for playing outside. You try as much as possible to stay away from the heavy heat during lunch hours but being so close to the equator (Panama is only 7 degrees away from it) its not an easy task with an active toddler around you.

I have done my fare share of research into the world of rash guards & swim shirts. As much as I love the cool shirts by surf brands (even J Crew has a cute one) BUT I noticed a big difference when I came across the shirt made by a French brand called HAMAC. Known for their reusable nappies & swim diapers they developed an awesome swim shirt. The fabric not only does it feel super soft and high quality but it's also much thinner (100% Meryl® Microfiber – a bi-stretch fabric made of 86% polyamide and 14% Elastane) than all the other rash guards I have felt before. Therefore makes it so much easier to pull over kids heads (which can be a not so fun adventure for everyone out there who has done it before). And it has ZERO prints, slogans or logos. Just a plain, good shirt which feels really good. The girl version has some cute ruffles at the end of the sleeves, but very subtle. Oh, and did I mention it dries fast too. It has a UPF 50+ sun protection and on their website they state it blocks a minimum of 98% of UVB and 95% of UVA rays.

With our daughter approaching her second birthday I so wish they would offer bigger sizes. For now they cover 3-24 months. Ready for some fun in the sand? Visit Hamac's website. "