Shirt and Swimsuit Set - Little Sailor
categorized in : The UV Swim Shirt
A beautiful Shirt and Swimsuit set for the beach and the pool

Use
You can match your UV swim shirt and your Hamac swim nappy for a 100% safe swim with your baby and an adorable style.
At the beach and at the pool, you baby will be the happiest in his Hamac Set:
- A Swim Nappy which is a leakproof, trendy and totally innovative with its reusable pad made for swimming under the pouch lining of the baby swim nappy
- A UV swim shirt which protects your baby's skin against UV rays, both in and out of the water
Made for children between the ages of 0 and 2.5, the swim nappy and the UV swim shirt are made in France and made out of Meryl™ microfiber, It helps keep moisture away from the body, speeds up drying and keeps baby's skin from getting too cold.
It is made of a high quality fabric that resists chlorine and salt.
Very high protection against the sun's UVA and UVB rays.
Sizes
3 sizes : 3-6 months / 6-12 months / 12-24 months.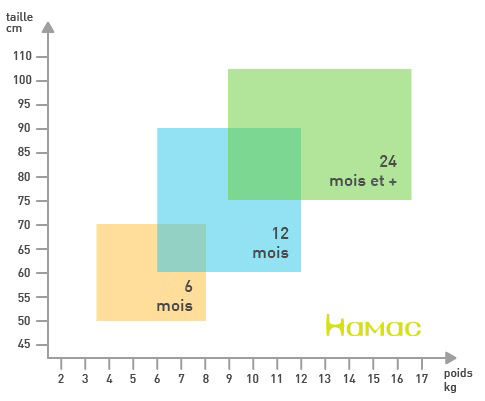 Composition
- The baby swim nappy and the UV swim shirt are made out of Meryl™ microfiber.
- The Hamac® pouch is made out of breathable and waterproof polyurethane.
- The inner netting is made out of 94% polyamide and of 6% elastane, and it keeps the absorbent pad in position (100% polyester).
- The reusable absorbent pad is made of polyester, with one soft layer made of polyamide.
Cleaning instructions
Nappy
Machine washable at 40°C/100°F. The tumble dryer should not be used because it wears out the fabrics faster.
It is important to fold the tabs back before washing so that they does not damage the rest of the linen. Nappy should not be ironed.
To prevent leaking and other damage to the Hamac pouch, refrain from using washing products containing alcohol, solvents, whiteners or abrasives.
Absorbent pad
Machine washable at 60°C/140°F. Absorbent pad should be tumble-dried.
Refrain from using softener or washing-up liquid with glycerin which can coat the absorbent pads and make them less absorbent. Use ecological washing powders when at all possible.
Made in France.

Product Reviews
, based on
You have tried this product? Tell us if you appreciated it!
Super ensemble qui protège parfaitement mon fils de 10 mois. Il va en profiter un bon moment ! La qualité est toujours au rdv !
---
Très bel ensemble d'une belle qualité. Notre petite puce va pouvoir en profiter un moment.
---
Ensemble très joli et semble de qualité! Pas encore utilisé vu le contexte mais il sera parfait pour la plage cet été!
---
Confortable, facile à utiliser, enfiler. Le t shirt n'est pas ultra blanc comme indiqué dans les commentaires mais l'ensemble reste super beau. L'efficacité reste à prouver, j'ai reçu le produit très récemment. Et livraison rapide malgré le confinement!
---
Matière douce et élastique, facile à enfiler et à enlever. Couche très confortable et bien ajustée. Fais bien le job.
---