Shirt and Swimsuit Set - Little Sailor
categorized in : The UV Swim Shirt
A beautiful Shirt and Swimsuit set for the beach and the pool

Use
You can match your UV swim shirt and your Hamac swim nappy for a 100% safe swim with your baby and an adorable style.
At the beach and at the pool, you baby will be the happiest in his Hamac Set:
- A Swim Nappy which is a leakproof, trendy and totally innovative with its reusable pad made for swimming under the pouch lining of the baby swim nappy
- A UV swim shirt which protects your baby's skin against UV rays, both in and out of the water
Made for children between the ages of 0 and 2.5, the swim nappy and the UV swim shirt are made in France and made out of Meryl™ microfiber, It helps keep moisture away from the body, speeds up drying and keeps baby's skin from getting too cold.
It is made of a high quality fabric that resists chlorine and salt.
Very high protection against the sun's UVA and UVB rays.
Sizes
3 sizes : 3-6 months / 6-12 months / 12-24 months.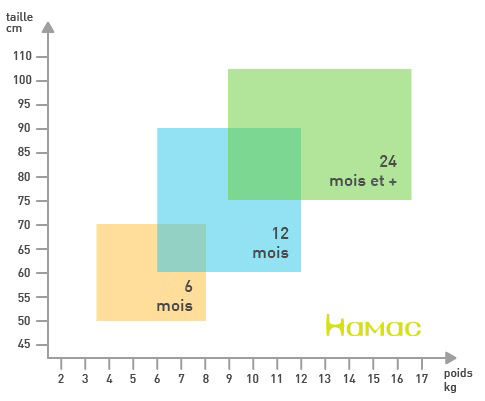 Composition
- The baby swim nappy and the UV swim shirt are made out of Meryl™ microfiber.
- The Hamac® pouch is made out of breathable and waterproof polyurethane.
- The inner netting is made out of 94% polyamide and of 6% elastane, and it keeps the absorbent pad in position (100% polyester).
- The reusable absorbent pad is made of polyester, with one soft layer made of polyamide.
Care
Rinse with fresh water after use.
Machine washable at 40°C (100°F).
Should not be tumble-dried or ironed.
Do not leave to dry in the sun.
To prevent leaking and other damage to the Hamac pouch, refrain from using washing products containing alcohol, solvents, whiteners or abrasives.
Product Reviews
, based on
You have tried this product? Tell us if you appreciated it!
Excellent produit en plus super joli et facile à enfiler. Je recommande.
---
Top, habitant dans un pays tropical l'ensemble est très souvent utilisée et toujours en parfait état. De plus la couche fait des petites fesses et cela est top pour bébé pour se mouvoir sur la plage :)
---
Super maillot de bain ! Il taille très bien et protège bébé du soleil. Le maillot couche est très pratique. Petit plus, bébé est vraiment trop mignon avec cet ensemble.
---
Bébé est vraiment trop craquant dans cet ensemble ! Permet d'éviter de le tartiner de crème solaire, et qu'il ne prenne froid dans l'eau. Sèche vite. Bonne qualité. Seul bémol : deux tâches sont apparues sur le haut couleur crème que nous n'arrivons pas à faire partir...
Bonjour, merci pour votre avis. Si vous avez des soucis ou des questions sur nos produits, vous pouvez nous envoyer un mail au service-client@hamac-paris.com. Nous serons ravis de répondre à vous questions. Bien à vous, l'équipe Hamac.
---
Ne nous mentons pas ... bébé est tellement à croquer dans cet ensemble que même s'il n'était pas efficace, je vous dirais que vous ne pouvez pas vous en passer. A compléter avec le bonnet de bain pour un total look :) Attention à ne pas prendre la couche trop grande, en se disant qu'elle servira plus longtemps (il faut quand même qu'elle tienne!)
---