Is Washing Nappies More Ecological Than Throwing Them Away?
25 Novembre 2014 -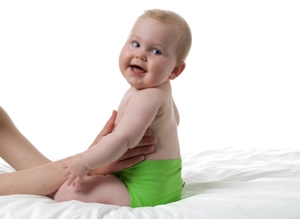 We just finished a study on the environmental impact of our nappies from the stage of raw materials all the way to their end of life, passing, of course, via the stage of their use in between (so washing is taken into account).The study was validated by a committee of independent experts and has the ISO 14040 and 14044 norms (required frameworks for product impact studies). For those familiar with the ISO frameworks, our study is a comparative Life Cycle Study.
So what really is the answer to the following question that everyone's asking:
Is washing nappies more ecological than throwing them away?
The answer is yes!
And far and away yes, with proof below from the study on Hamac nappies:
CO2 emissions: -92% in the atmosphere
Depletion of non-renewable resources: divided by 10
Water use: divided in half
Use of electricity: divided by 5
Did we take washing powder into account in the calculations? YES.
Everything was taken into account: washing powder, pre-rinsing under the tap, washing every other day, the use of liner covers, drying machine use, use of liners made of various materials...
What's more, you can actually calculate the impact of cloth nappies vs. disposables on a sliding scale online: www.couches-lavables-ou-jetables.com
Do the results concern only Hamac cloth nappies? Yes, because they are the fruit of hard work on eco-concepts by our founder, an industrial designer. This has led us to make innovative and unique technological choices in order to diminish environmental impact. Our innovations are protected by three copyrights.
Is it more expensive to use Hamac cloth nappies than other nappies? No! Calculate here: www.couches-lavables-ou-jetables.com You'll see that the savings are high with your first baby, and only get higher if you choose to have more children!
Health concerns? Hamac cloth nappies are certified Oeko Tex 100 Class 1 (without endocrine disruptors, chemical allergens, or heavy metals). They let baby's skin breathe thanks to their micro-aerated fabrics. For traceability and as a gauge of quality, we put our trust in French production--that is our choice.