Testimonial from a Hamac mum
01 Décembre 2014 -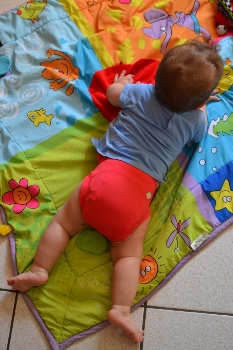 Via this lovely note, Aurélie shared her Hamac experience with us. She is very happy indeed, and so are we!
"My 10-and-a-half-month-old daughter has been wearing T.Mac panties since she was 8 months old and, as you can see from the photos, it's going rather well for her.... and me as well!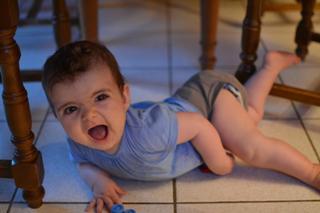 I really wanted to tell you that I am very happy with our investment, because in addition to the nappies being pretty, we've had very few leaks (Just about none, actually)! We did have a few at the beginning that were due to the fact that they were just a bit too big (we've had the medium size since her 8-month mark, she just went over 9kg in September, I think the small size would have done very well until August). I noticed that many of those who tested Hamac nappies found they were on the small side, but for us, the nappy adjusted to our baby well in the end, and all is going very well now.
In September, more leaks started. When one happened just 45 minutes after a change, I deep cleaned the inserts and since then, everything has gone smoothly! On the other hand, because of teething, she's been having more than a few liquid stools that have caused leaks… that have happened with disposables, too (our current day care does not accept cloth nappies, we don't know where she'll go in January yet). Consequently, we decided to give 100% cloth nappies at home a go, now using them at night.
Well, I can tell you that the special nap absorbent liner plus the swim absorbent liner passed the test of…. EIGHTEEN (yes, yes, bed at 8pm, awake at 2:30pm the next day--she had a lot of sleep to catch up on after the combination of going into day care, teething, and a nasty cold) hours with flying colours. I must admit that there weren't the normal atomic morning stools, but as all her nappies (disposable) overflow in the night at the moment, we have nothing to lose by switching to cloth nappies-- quite the contrary, in fact.
So I wanted to thank you because I am trying to take a closer look at the consumer items my household uses, and thanks to you I feel I've already made a step in the right direction. My husband, who was not at all convinced at the beginning, is now also very happy, and he was the one who said, "Cloth nappies at night? That works!"
I can only see one problem: with my older son, I stocked his outgrown clothes in empty nappy boxes. With my daughter I'm going to have to do something else! ;)
I wish you all the best!"
Thank you Aurélie! It's thanks to parents like you and your encouragement that Hamac cloth nappies continue to gain ground.